HIGH EFFICIENCY TURBO COMPRESSORS FROM HAUS
Today, energy consumption increases with industrialization, increasing population and widespread technology and "energy efficiency" is of great importance due to the high costs in obtaining energy. This leads manufacturers to offer more efficient and optimum systems.
Turbo compressors used in every sector in need of air are used extensively in yeast production process, pharmaceutical industry and municipal wastewater treatment and drinking water facilities.
In wastewater treatment plants, 50-60% of the electricity consumption of the plant is used by turbo compressors. Because of such high energy consumption, more efficient turbo compressors, with less energy consuming, can achieve huge savings on an annual basis.
High Energy Efficiency with HAUS Turbo Compressors
To reduce operational costs of customers, with improved operating range and increased efficiency,
HAUS Turbo Compressors are designed according to the following standards,
• EN61800-3 (EMC)
• Low Voltage Directive (LVD), Directive 2014/35 / EU
• Electromagnetic Compatibility [EMC], Directive 2014/30 / EU
• Machinery Directive (MD), Directive 2006/42 / EC
tested according to ISO 5389 standard at HAUS R & D Center Test section with their design verification performed. Each manufactured HAUS Turbo Compressor is shipped after being tested in the factory. In the tests, energy consumption, efficiency and performance values of the turbo compressor are recorded.
In addition, energy consumption was observed in İzmir Kemalpaşa Organized Industrial Zone Wastewater Treatment Plant in order to determine the energy consumption in the field.
The facility located within the organized industry has 2 ventilation pools and is fed by 4 turbo compressors in total, 2 in one pool and 2 in the other pool.
In the facility, two conventional turbo compressors were cancelled and replaced by the ELP062 model HAUS Turbo Blower with a low-pressure of 170kW engine power of 800mbar.
The facility also has a power analyser that measures the energy consumption in-house.
HAUS Turbo Compressors were operated in such a way that the amount of oxygen needed by the pool remained constant, and energy consumption was read from the power analyser and recorded.
HAUS Turbo Blower, which can reach 85% efficiency, 3rd generation high speed magnetic bearing technology has achieved 13% saving in annual energy consumption of turbo compressors in the plant.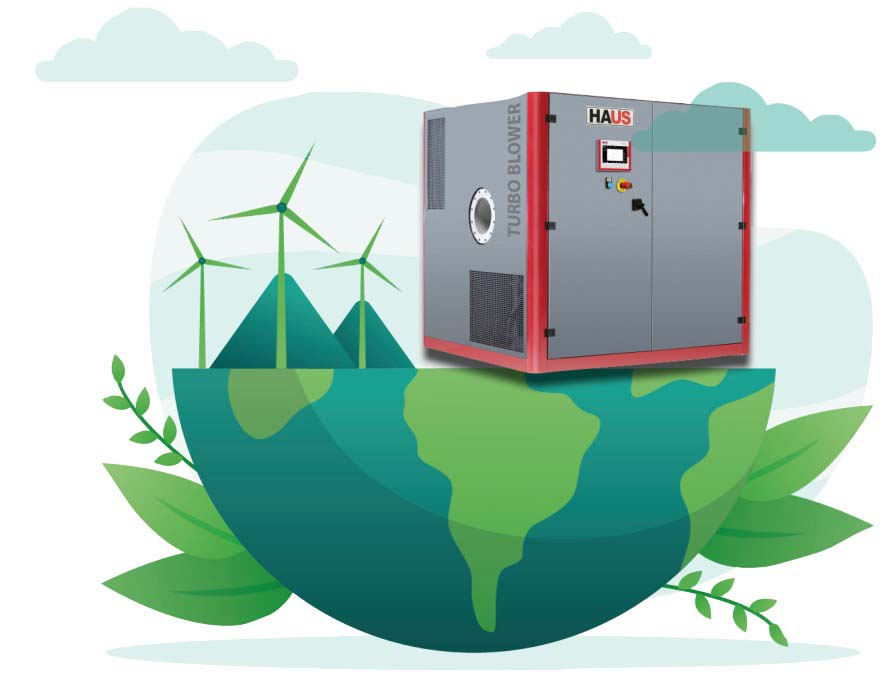 HAUS Turbo Mæstro - HTM (Turbo Blower Optimizer) Provides High Advantage
In addition, with the Turbomæstro control unit it has and by the 100% original HAUS production software;
• Multiple turbo compressor control,
• Remote connection,
• Energy optimization,
• The service life of the compressors and communication with SCADA are also provided.
HAUS Turbo Blower is an innovative solution that improves process efficiency and pays the initial investment cost in a very short time by providing consistent energy and maintenance savings. HAUS constantly develops products for energy saving and more efficient processes by supporting the sustainable growth of its customers.
HAUS offers different configuration blowers specially designed for treatment plants and industrial applications.
How can we help you?