JOURNEY OF DEFNELIA
Completing her undergraduate degree at Dokuz Eylül University, Faculty of Economics and Administrative Sciences, Department of Business Administration in 2012, and her master's degree on supply chain management at the University of Sunderland in London in 2014, Ozden Gozluklu Saka successfully served as the marketing manager between the years of 2015 and 2021 at HAUS, for which she is acting as a board of directors member, and which is a family company playing the lead in machinery manufacturing for the environment, energy, industry and food sectors, especially olive oil. She is with us with the aim of bringing a brand-new perspective to the quality olive oil in Turkey with "Defnelia" for which she has blended her knowledge and experience she has gained in this position and herpersonal interest.
Indeed, the first seeds of the adventure began to sprout when her father Omer and uncle Ahmet had manufactured the first olive oil machine in Turkey in 1989. Since then, for more than 30 years, she has attached great importance to R&D in order to better process the unique fruit of the olive tree and to obtain higher quality oil, and ensured the formation of conditions which will direct Ozden Gozluklu Saka to create Defnelia in a sense.
Changing her perspective and increasing her interest in olive trees and olive oil with which she grew together since her childhood thanks to the uninterrupted support given to R&D targeting even higher quality olive oil and the duties and knowledge gained in the family business HAUS, which has become one of the leading companies in olive oil machinery sector, Ozden Gozluklu Saka received olive oil tasting & quality assessment training from the olive oil tasting expert Dr. Gino Gelletti, accepted as a world-wide authority in his field.
In today's world, where we gain more and more awareness about the importance of olive oil for our health, Ozden Gozluklu Saka deeply affected by the situation that her little cute daughter Defne got over her allergy problem in a short time period thanks to the high polyphenol olive and triggered her entrepreneurial spirit and ignited the spark of the formation of Defnelia 2021, the fruit of the process that started to bloom in 1989.
Having adopted the principle of "Olive oil with a polyphenol value of more than 200 is a medicine, not just an olive oil" as Dr. Umit Aktas who is one of the first medical doctors to be trained as a phytotherapy specialist in Turkey once said, Ozden Gozluklu Saka has been welcoming the day by consuming.
20 ml of raw olive oil on an empty stomach in the morning for the last two years. Therefore, she started to attach importance to several parameters such as early harvest, cold pressing, oxygen contact control to produce olive oil with higher quality and higher polyphenol value, and launched Defnelia, the olive elixir with the help of HAUS Phenolive® working in compliance with these parameters.
ThebrandofDefneliawhichmakesherexperience the justified pride of being one of the five brands awarded with Premium Award in 14th National Extra Virgin Olive Oil Quality Competition organized by Zeytindostu Association this year (2021) and being awarded the Bronze Medal in the Health Claim and Packaging Design category at the London International Olive Oil Quality Competition is named after the combinations of the name DEFNE, the daughter of Ozden Gozluklu Saka and word ELIA which means olive in Greek. Embellishing her dreams with the luck of her daughter and reaching her goal of "creating a olive oil brand to serve health through her own efforts from beginning to the end", Saka created a special product by prioritizing the high-polyphenol virgin olive oil in order to raise consumer awareness and to make the value of olive oil even more noticeable. She offers the product with 20 ml olive oil shot glass in the product box in order to make them adopt this as a lifestyle. Customers have the opportunity to easily access the acid-peroxide and polyphenol values in olive oil by scanning the QR code on the product box with their phone. New generation consumers like to have everything in one place. Besides, an airtight guala lid and dark colored healthy glass bottle which do not receive any air from outside in order to prevent the olive oil from losing its properties during the consumption offer added value.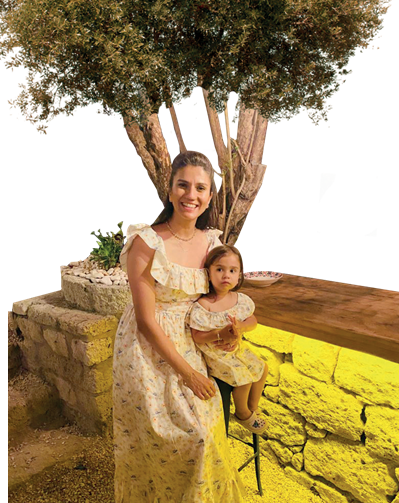 Furthermore, Ozden Gozluklu Saka with the dream of combining a work of art with olive oil, realized her dream by using the works of writer and painter Setenay Ozbek that reflects the joy experienced by embracing the nature and life through the abstract expressionism method on Defnelia packaging.
So, what is Abstract Expressionism in Art?
Wars and oppressive governments are the reasons why artists seek different forms of expression based on the characteristics of the society they live in and go towards the activities they can perform freely. Artists who contribute to the development of these trends react against the order they live in. The artists of the period who express their reactions through different artistic methods convey their feelings freely to their paintings without any concerns about form or color. Writer and painter Setenay Özbek is one of these artists. Continuing to maintain our life with a great belief in nature, environment, love and peace both in Joy of Colors and Without Borders works, she freely reflects the pictorial expression of the inner world with colors instead of realistic photographic images of the things we see.
Welcome the day by nourishing your body, mind and soul with Defnelia Olive ixir!
Feel the existence of joy experienced by embracing the nature and life with Defnelia Art Series!
How can we help you?