THE TEXTILE INDUSTRY
The textile industry has evolved greatly since the invention of the cotton gin in the 18th century. Textiles are products made from fiber, filaments, yarn, or thread, and can be technical or conventional depending on their intended use. The textile industry is an immense global market that affects every country in the world either directly or indirectly.
From a global perspective, the textile industry is an ever-growing market, with key competitors being China, the European Union, the United States, and India. The global textile industry was estimated to be around USD 920 billion, and it is projected to witness a Compound Annual Growth Rate (CAGR) of approximately 4.4% during the forecast period to reach approximately USD 1,230 billion by 2024.
Stages in Textile Manufacturing
The supply chain for clothing is long and complex. Each step from fiber, yarn, and textile manufacturing to dyeing and garment sewing, to storage in a retail distribution center can happen in a different country. Dozens of people are involved in the creation of a single item of clothing, and that journey is wrought with waste: water, chemicals, CO2 and plastic.
Textile Industry Wastewater Treatment
Raw sludge is passed through rotary screen to remove coarse solids. The liquid phase will be fed into equalizing tank where the liquids are mixed and cooled. Then the cooled liquids are fed in Dissolved Air Floatation Unit (DAF), here polymer, coagulant and acid are added for the purpose of reducing the pH and then to make flocs of solids. Clean liquid from DAF will be sent to aeration tank and skimmed to secondary clarifier before discharge for final treatment of effluent. The floating solid phase from DAF and sedimented solids from secondary aeration tank will be collected into sludge collecting tank. Then the sludge from sludge collecting tank is treated with Tertiary/Advance Treatment Method which uses physical separation for better quality of wastewater. There are few example for Tertiary/Advance Treatment Method, for example by using a decanter centrifuge, screw press, filter press or drying bed method.
Textile Industry Wastewater Treatment – Screw Press
Screw press sludge dewatering/ thickening/ thickener also called Multi-Disc Screw Press , it's clog-free and can reduce the sedimentation tank and sludge thickening tank or replaced with inline mixer. It utilizes a central screw auger and a slowly oscillating multi-disk filterto gradually increase pressure on flocculated sludge to produce an exceptionally dry sludge cake. Due to very limited rotation about 3-5 rpm, the flowrate of this screw press is normally lower compared to decanter centrifuge.
Textile Industry Wastewater Treatment - Decanter
Decanter centrifuge is a mechanical separation equipment which producesvery high G-force for physical separation of sludge of different density. The revolution of the decanter centrifuge can vary from 2000 – 4000 rpm depending on the bowl size. The sludge slurry that is stored in mixing tank fed into decanter centrifuge with parallel feed of polymer. The produced cake from decanter sent for disposal and filtrate drained to collection pond. This continuous process produces cake dryness of more than 25% with filtrate quality within the limits to be drained to river or to be re-used in the system.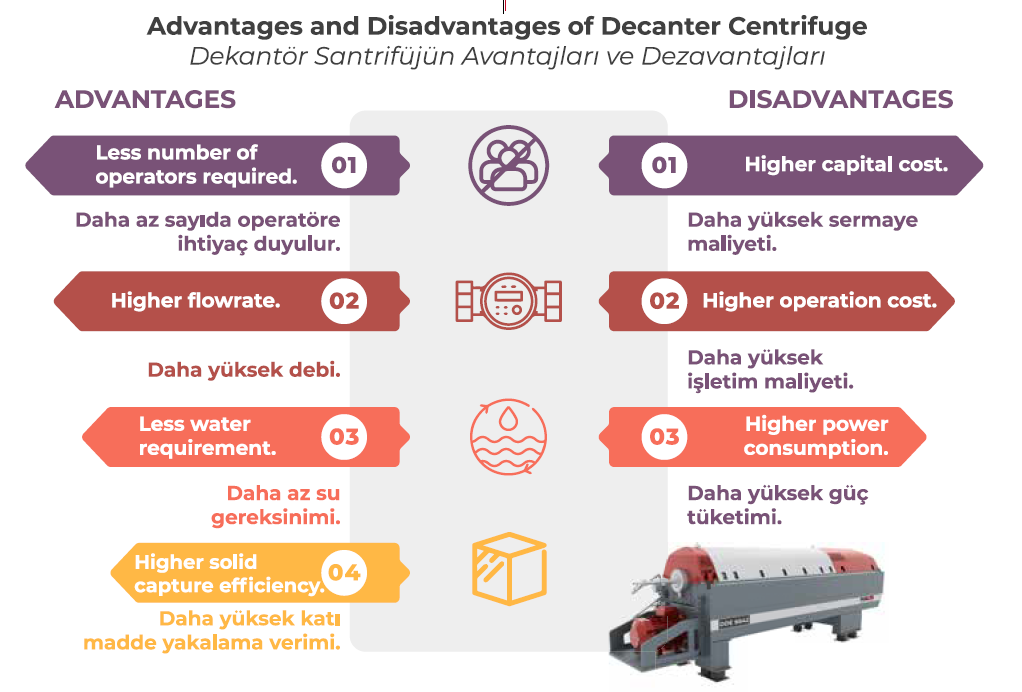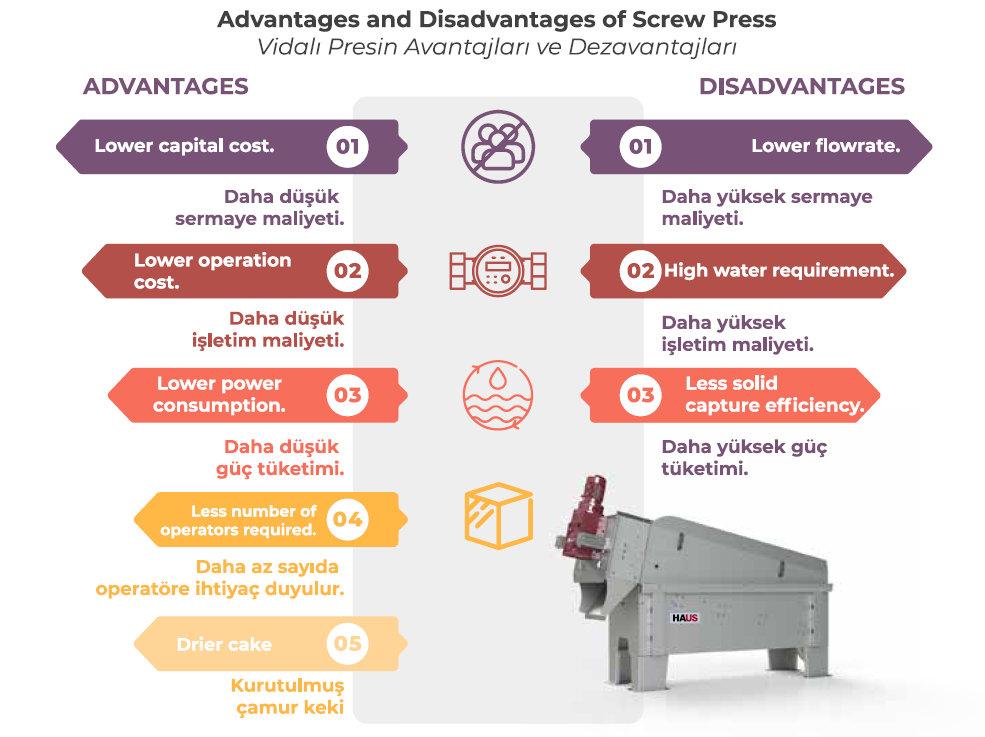 Also, we are able to provide service for our customers without requireing to be phsically available on the field. We make instant intervention to your equipment in the field and collect information about machine behavior and provide optimization and intervention according to changing conditions. We provide you with the opportunity to minimize your unplanned maintenance times and indirect losses through the solutions we offer.
Meet with HAUS Remote Support System!
HAUS Remote Support System is developed by our software engineers to provide a continuos support to our customers HAUS Remote Support System can collect data from your equipment 7/24 and alayze all these datas and transmit information to the relevant our engineers for control and intervention. The data collected will minimize the downtime of your equipment and process. It will also prevent unexpected malfunctions. Click for detail.
How can we help you?